The Importance of Cleaning Dryer Ducts
November 18 2023
National Duct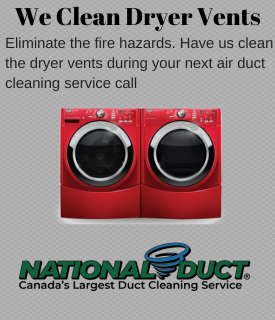 The Importance of Cleaning Dryer Ducts
In the whirlwind of daily responsibilities, it's easy to overlook the maintenance needs of our homes. While we diligently clean visible surfaces, there's a hidden danger that often goes unnoticed—the neglected dryer duct. Cleaning dryer ducts might not be at the forefront of your household chores, but its significance cannot be overstated. In this blog post, we'll delve into the reasons why it is crucial to regularly clean your dryer ducts for the safety, efficiency, and overall well-being of your home.
Preventing Fire Hazards
Perhaps the most critical reason to prioritize dryer duct cleaning is the potential fire hazard that lurks within. Over time, lint, fibers, and debris from clothing accumulate in the dryer duct. As the dryer operates, it generates heat, and when combined with the highly flammable lint, it creates a recipe for disaster. According to the National Fire Protection Association (NFPA), failure to clean dryers is a leading cause of home structure fires. Regular cleaning significantly reduces the risk of a lint-induced fire, safeguarding your home and loved ones from a potentially devastating incident.
Enhancing Energy Efficiency
Beyond the safety concerns, cleaning your dryer ducts contributes to improved energy efficiency. A clogged duct forces the dryer to work harder to expel moist air, leading to increased energy consumption. This not only translates to higher electricity bills but also places unnecessary strain on the dryer's components. By keeping the duct clear, the dryer can operate at peak efficiency, saving energy and reducing your environmental footprint. Investing a little time and effort into cleaning your dryer ducts can result in long-term cost savings and a more eco-friendly home.
Preserving Appliance Longevity
Your household appliances are a significant investment, and it's in your best interest to protect that investment through regular maintenance. A clean dryer duct is a crucial component in preserving the lifespan of your dryer. When the duct is free from blockages, the dryer can function smoothly, minimizing wear and tear on its internal mechanisms. Routine cleaning not only reduces the likelihood of breakdowns but also extends the overall lifespan of the appliance. Considering the cost of appliance replacement, regular maintenance, including dryer duct cleaning, is a small price to pay for the longevity of your valuable appliances.
Improving Indoor Air Quality
The impact of a neglected dryer duct extends beyond fire hazards and energy efficiency—it can also affect the air quality inside your home. As lint accumulates, it creates an ideal environment for mold, bacteria, and allergens to thrive. When the dryer is in use, these contaminants can be circulated into the air, compromising indoor air quality. Regular cleaning of the dryer duct helps eliminate this breeding ground for allergens, contributing to a healthier living environment for you and your family. Breathing cleaner air can have a positive impact on respiratory health and overall well-being.
In conclusion, the importance of cleaning dryer ducts cannot be emphasized enough. It is not merely a chore to check off the list but a crucial step in ensuring the safety, efficiency, and overall health of your home. By addressing the hidden dangers of lint buildup, you are taking a proactive stance in preventing potential fire hazards, improving energy efficiency, preserving the longevity of your appliances, and enhancing indoor air quality. Don't let your dryer duct become a neglected hazard—make regular cleaning a priority and enjoy the peace of mind that comes with a safer, more efficient, and healthier home.